National Holidays in Brazil Updated
National holidays in Brazil  may be legislated at the federal, statewide and municipal levels. Most holidays are observed nationwide in entire Brazil, but some holidays are only observed in  each state and city as well.
Apart from the yearly official holidays (listed below), the Constitution of Brazil also establishes that election days are to be considered national holidays in Brazil as well. General elections are held on the first Sunday of October, in the first round, and on the last Sunday of October, in the second round, of every even year. Numerous religious and ethnic public holidays are also celebrated in Brazil.
National holidays in Brazil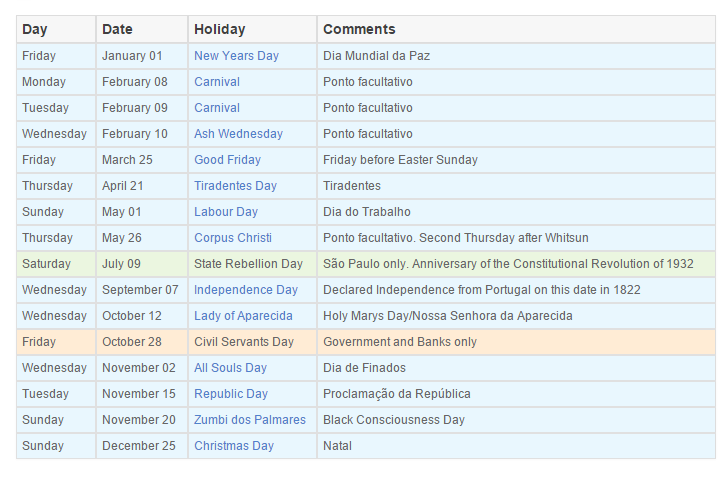 Public Holidays and National Holidays in Brazil 2016
New Year's Day is on Friday, 01 January 2016
Carnival / Mardi Gras starts on Monday, 08 February 2016
Good Friday is on Friday, 25 March 2016
Tiradentes Day is on Thursday, 21 April 2016
Labour Day in Brazil is on Sunday, 01 May 2016
Corpus Christi is on Thursday, 26 May 2016
State Rebellion Day (São Paulo state only) is on Saturday, 09 July 2016
Independence Day in Brazil is on Wednesday, 07 September 2016
Our Lady of Aparecida is on Wednesday, 12 October 2016
All Souls Day is on Wednesday, 02 November 2016
Proclamation of the Republic in Brazil is on Tuesday, 15 November 2016
Black Consciousness Day is on Sunday, 20 November 2016
Christmas Day is on Sunday, 25 December 2016
Public Holidays and National Holidays for Brazil 2017
New Year's Day is on Sunday, 01 January 2017
Carnival / Mardi Gras start date is on Monday, 27 February 2017
Carnival / Mardi Gras end date is on Wednesday, 01 March 2017
Good Friday is on Friday, 14 April 2017
Tiradentes Day is on Friday, 21 April 2017
Labour Day is on Monday, 01 May 2017
Corpus Christi is on Thursday, 15 June 2017
Independence Day Brazil is on Thursday, 07 September 2017
Our Lady of Aparecida is on Thursday, 12 October 2017
All Souls' Day is on Thursday, 02 November 2017
Proclamation of the Republic Brazil is on Wednesday, 15 November 2017
Christmas Day is on Monday, 25 December 2017
NOTE:- We do not claim that the above  mentioned  National holidays in Brazil are complete and final .It may have some deficiencies or may be some missing in it .If you want to make it sure 100%  then you should read the official reading about the National holidays in Brazil