Public National holidays in Germany
By law, "the Sundays and the National holidays in Germany remain protected as days of rest from work and of spiritual elevation". Thus all Sundays are, in a manner, public national holidays in Germany.
Public national holidays in Germany apart from the Sundays  can be declared by law by either the Federation or the Länder for their respective jurisdictions. By federal law, only the German Unity Day is made a holiday at present  the others, even the ones celebrated all over Germany, are made holidays by state legislation.
List of the National holidays in Germany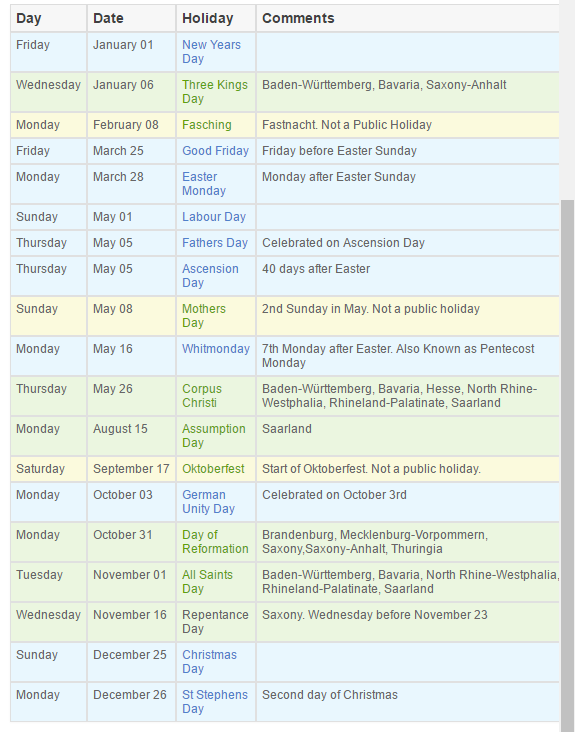 Quiet days in Germany.
Some National holidays in Germany are quiet days:
Good Friday,
Prayer and Repentance Day (also a public holiday and in a couple of other states)
All Saints (also a public holiday)
Memorial Day (33rd Sunday of Ordinary Time),
Totensonntag (German-Protestant equivalent of All Souls Day),  on the last Sunday of the ecclesiastical year,
and some days may be quiet days without being National public holidays:
The Christmas Eve (beginning in the afternoon, in some states)
The Ash Wednesday (in Bavaria)
The Holy Thursday (in some states; in some of them beginning in the evening)
The Holy Saturday (in some states)
The All Souls Day (in Lower Saxony and the Saarland).
Flags Days (National holidays in Germany)
This is third category that may, sometimes, be called "holidays" in a sense are the "flag days" (in Gernam it is  called Beflaggungstage). Only the very highest institutions, and the military, use the national flags at every day, so the directives when flags are to be displayed mark the days in question as special.
Flags are to be shown by Federal Decree on the following :
Holocaust Memorial Day (January 27, half-mast)
Labor Day
Europe Day (May 9)
Constitution Day (May 23)
Remembrance of June 17th. This day used to be a public holiday under the title of "German Unity Day" until that unity actually was achieved.
World Refugee Day
Remembrance of July 20
German Unity Day
Memorial Day (half-mast)
Election Day (Bundestag, European Parliament)
and by state decrees on other days, such as election days for state parliaments, state constitution days, anniversary of the election of the Federal President  and so on.
Frequently flags are ordered ad-hoc to be shown at half-mast in cases of national mourning.
Holiday
Local name
Date
New Year
Neujahr
1 January
Good Friday
Karfreitag
Easter Sunday – 2d
Easter Monday
Ostermontag
Easter Sunday + 1d
Labor Day
Internationaler Kampf- und Feiertag
der Werktätigen für Frieden und Sozialismus
1 May
Day of Liberation
Tag der Befreiung
8 May
Day of Victory
Tag des Sieges
9 May
Ascension Day
Christi Himmelfahrt
Easter Sunday + 39d
Whit Monday
Pfingstmontag
Easter Sunday + 50d
Day of the Republic
Tag der Republik
7 October
Reformation Day
Reformationstag
31 October
Day of Repentance and Prayer
Buß- und Bettag
Wed. before 23 November
Christmas Day
1. Weihnachtsfeiertag
25 December
St Stephen's Day / Boxing Day
2. Weihnachtsfeiertag
26 December
                                                        National holidays in Germany