National Holidays in Russia – Latest
In this post we are gonna talk about the National Holidays in Russia OR Public Holiday in Russia
Following is the list of National holidays assigned  by the Government of Russia. On these following mentioned days, the  government offices, embassies and some shops, are off. If the date of observance falls on a weekend, the following Monday will be a day off in lieu of the holiday.
Table of National Holidays in Russia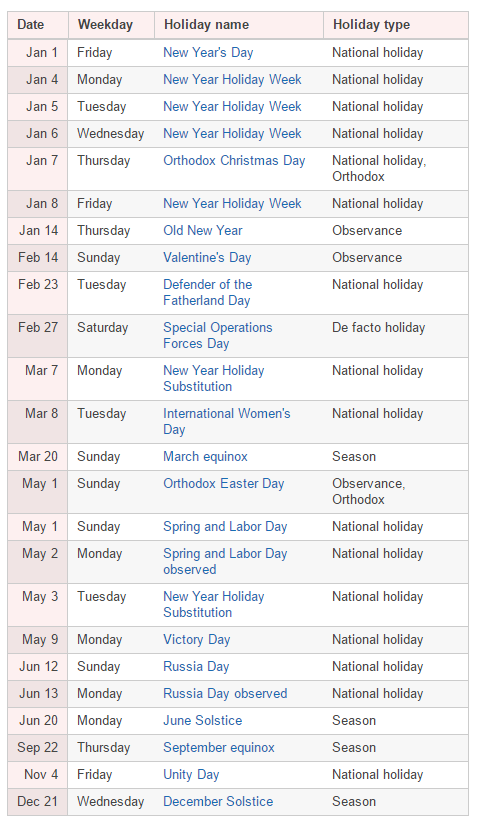 Some of the Official Holidays In Russia
New Year holiday
1 January, 2–5 January are public holidays as well called New Year holiday.
Christmas day
7th of  January, as a National public holiday in Russia according to the Julian calendar used by the Russian Orthodox Church. This public holiday was re-established in 1991, following the decades of suppression of religion and state atheism of the Soviet Union. Christmas on 25 December is celebrated in Russia by the Roman Catholic and various Protestant churches,but is not a public holiday. But despite it not being a public holiday, it is a popular holiday
Defender of the Fatherland Day
The Defender of the Fatherland Day is celebrated on 23 February and is dedicated to veterans and members of the Armed Forces of the Russian Federation, though it is often colloquially known as Men's Day  and commonly treated as a celebration of all men. The holiday was established in 1918.
International Women's Day
On the eve of World War I campaigning for peace, Russian women observed their first International Women's Day on the last Sunday in February 1913. In 1913 following discussions, International Women's Day was transferred to 8 March and this day has remained the global date for International Women's Day ever since.
National Flag Day
The National Flag Day is an official holiday in Russia, established in 1994. It is celebrated on 22 August, the day of the victory over putschists in 1991, but it is not a day-off
Russia Day
Russia Day  is the national day, celebrated on June 12. On this day, in 1990, Russian parliament formally declared Russian sovereignty from the USSR  which declared complete state independence , Russian independence was less radical, and coexistence of Russian and USSR state power had a place until the end of 1991 The holiday was officially established in 1992. Initially it was named Day of the Adoption of the Declaration of Sovereignty of the Russian Federation, on 1 February 2002 it was officially renamed to Russia Day (in 1998 Boris Yeltsin offered this name socially). There exists a misconception in Russian society, that this holiday is also called Russia's Independence Day, but it never had such a name in official documents. According to the survey of Levada Center in May 2009, 44% of the respondents named the holiday as Independence Day of Russia.
Unity Day
Unity Day  was first celebrated on November 4, 2005, commemorates the popular uprising led by Kuzma Minin andDmitry Pozharsky which ejected the Polish invaders from Moscow in November 1612, and more generally the end of the Time of Troubles and foreign intervention in Russia. The event was marked by a public holiday which was held in Russia on October 22 (Old Style) from 1649 till 1917. Its name alludes to the idea that all the classes of Russian society willingly united to preserve Russian statehood when its demise seemed inevitable, even though there was neither Tsar nor Patriarch to guide them. Most observers view this as an attempted replacement to counter Communist demonstrations on November 7 holiday, which marked the anniversary of the October Revolution. National Unity Day is also known as Consolidation Day (as an alternative translation), which people in Russia celebrate on November 3 – November 4.